YLS Studio
SEO

, Marketing
Packages
YLS Studio
SEO & Marketing
Packages
Find Search Engine Optimization (SEO) packages to suit your needs. Alternatively you can choose an SEO and Marketing package to not only increase your on site, but also your off site SEO and keep your viewers engaged.
We provide targeted keyword SEO to rank you for certain phrases or words that are commonly searched for in your industry. Examples include: Builder in Hampshire, Gym in London, Parking near me and other variations that you want to rank first for in search engines. We work with you to identify the best keywords to optimise your SEO and create a targeted campaign to increase your ranking for these phrases.
Often when people search on Google or other search engines, they search by location to find close by businesses. We can provide SEO services to help rank your keywords by location. Examples include: Massage in Gosport, Website Design in the South West. And can include your service and location to target the right customers. This includes showing up in the business listings by location or service.
We also provide  complete on page SEO, meaning we take a look through your entire website and optimise every piece of content and all the images to rank faster for selected keywords or industry related phrases. By adding in your keywords organically to your content and the relative alt descriptions to your images, you will be surprised how fast you start to rank already. The meta data to your website is how google reads your site after all.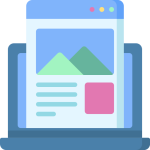 Analysing your competitor to see what they rank for and how best to outrank them is essential. Whether you're just looking for a competitor analysis plan, so you can better understand the strengths and weaknesses of competing businesses. Or part of an SEO plan to out rank your competitor in search results, we have you covered and research all competitors well before planning a search engine optimisation plan to get you showing up first. 
Locations We Can Visit You
Working Remotely With Our Clients
Most of our work is done remotely so you don't ever have to travel anywhere or arrange meetings, simply scheduled calls or emails around your schedule. Whether it's screen sharing to show you the design or having calls to finalise development or add new features. We are happy to help and whether it's in person or through an online method we will be sure to communicate through out.
Targeted SEO Research And Optimization
We thoroughly research the keyword/keywords you are looking to rank for to find how we can implement a plan and rank you higher. This includes full research of your competitors to fully understand the right tactic to rank above them and show up before them in popular search engines such as Google or Bing.
Getting Added On Directories
Being listed on many different directories help for being found, increasing your backlinks and just generally helps business as well as rankings. We add our clients to a variety of directories to make sure you get found and rank higher for the search term your looking to grow rank for.
We work to build you organic backlinks from other websites to grow your domain authority and generate traffic to your website. We don't just buy backlinks as we believe in good quality content to rank higher as well as relevant and organic links. Using our tried and tested methods we can help you grow your backlinks without having to reach out to anyone to ask them for a link again.
Have you got tones of offers, new products or services but struggle with the time to post on your social media? Look no further as we can do it for you. Depending on your package you get a number of social media posts every week specifically designed for your business. So start to grow your audience, send the right people to your products and grow your brand with our social media posting service.
Blog Posting On Your Website
One of the best ways to start ranking higher on google and other search engines is not only adding the relevant SEO to your pages but to post regularly about well researched keywords or phrases to lead the right visitors to your website. We research every post we create to specifically grow the right audience for your website and get you showing up on search engines for the right search terms. All posts are between 500 – 1000 words long.
Directory Listing For Your Business
Did you know that as well as the well known paid directory listings, there are hundreds of free directory listings in the UK that you can sign your business up for? This does take some time and effort, also some knowledge of knowing which ones to post on. With our packages you get listed on these directories for your service. Meaning you will show up more often, have more links pointed toward your site and get many more visitors for your desired service.
Honest Search Engine Optimization
We believe in good honest SEO work in conjunction with relevant and good quality backlinks. 
Many SEO freelancers claim to improve SEO when they are only changing stats in programs in Ahrefs or SEMrush by adding many links form their blogs.
This does of course help your site in the short term but will always lead to a decrease when the blogs they use get discovered as simply link building blogs by google.
We study what's ranking, improve your website to follow suit and provide you with content to bring in the audience we require as well as ranking higher for your keywords.
Our SEO packages are designed so we can target the keyword or key phrase you're looking to rank with. This could be as general as "part worn tyres" or more location based like "construction companies in Fareham". We are also honest with time scales as some keywords you might rank first for in 1 month, some may take continued efforts depending on the opposing companies SEO tactics. Get in touch with us and we can create a free report of estimated time scale and price recommended for your needs.